From charity 5k's to marathons, triathlons, duathlons, obstacle course races and our amazingly popular and successful ADV.FIT Kids! school fundraising program we love putting on adventure fitness events.
ADV.FIT Kids!
School fundraising can be an amazing hassle for faculty & Parent-Teacher Organizations, ADV.FIT Kids! has the turn-key solution to blow the doors off any of your current fundraisers in terms of fun for the kids, a big boost for fundraising, and a hassle-free engagement with your staff! ADV.FIT Kids! is a fun & challenging obstacle course designed for K-12 kids of all abilities featuring 10 obstacles, plenty of activity, and lots of smiles to go along with your kids' awesome feeling of accomplishment!
Most fundraisers take a huge portion of your PTO's hard-earned fundraising amounts to put on a boring run-in-a-circle "fun run" –ADV.FIT Kids! delivers an impressive course featuring obstacles that you'd see at a Warrior Dash-type event: crawling tubes, monkey bars, cargo nets, balance beams, and even a warped wall like the kids see on American Ninja Warrior! We offer a complete experience with soundsystem, music, water stations, course, a professional fitness author to motivate the kids, and more for a flat per-student fee!
Check out more details & pricing on our ADV.FIT Kids! page, then contact us to get started, we'll give you a no-nonsense quote for the entire event from start-to-finish with even options for t-shirts, medals, prizes, and much more!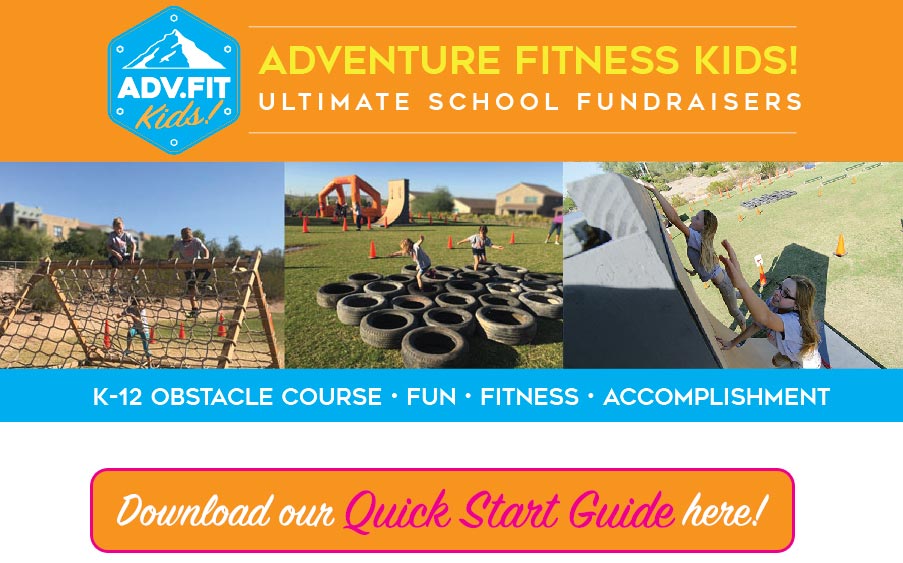 Professional attention to detail including course design, obstacle design & development, event management, promotions & marketing, fundraising programs, and more – get started here!

What We're All About
Whether you're looking for a turn-key solution for promotion & production for your race or it's one of our many different adventure fitness events, ADV.FIT is dedicated to delivering fun, safe, memorable events for all types of athletes.
ADV.FIT (Adventure Fitness, TRI PHX LLC) is a family-owned event production company. Whether your event requires a fitness author & public speaker, seasoned race director with national experience, or a turn-key team to handle all race operations, we'd love to connect and learn more about your needs.
We produce several charity runs from 5k's to obstacle course races all the way up to a full marathon and even a national championship for obstacle course racing.
ADV.FIT has also pioneered the ADV.FIT Kids! fundraising option for schools, businesses, and groups incorporating some of the fun elements of obstacle course racing and ninja warrior in a family-friendly environment. School fundraising is our specialty, and our team can create an event for K-8 including pre-event speaking visits to schools to amp up the students to stay active and help fundraising efforts.
Fun, Fitness, and Adventure – whatever order you may put these things in, we happen to put fun first. (well, safety is always first!)
Our mantra is pretty simple, and we're very serious about it:
Come happy, play hard, leave even happier.
Be competitive. Be the best you can be. Be a good person too. If you can't play hard and have a good attitude, keep your money and stay home.
Respect your fellow athletes, volunteers and staff, because we surely respect the hard work you put in to get here as an athlete, and hard-earned money you invested in our events. The vibe of our events is extremely important to us – it's why we're in this business in the first place!