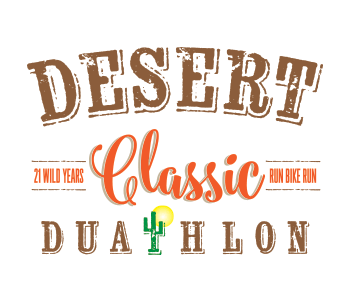 Over the past 21 years DCD has attracted Ironman & Xterra World Champs, Olympic Triathlon & Cycling Gold Medalists, and thousands of athletes from all over the southwest including AZ, CA, & NV multisport clubs. We're proudly continuing that prestigious position as the official multisport season kickoff, and are committed to delivering a challenging and exciting duathlon to kick the southwest into gear for years to come!
Don't let our prestigious history make you think this is a "elite-only" event; Desert Classic Duathlon has always been and will continue to be a season kick-off for ALL athletes from first-timers to multisport teams. As part of the 2017 Champion's Cup, individuals and clubs can get a jump on building points towards the 9/9 Cup Championship!
2017 Desert Classic Duathlon features a new, rugged 5k run course that is entirely off-road, and we're making some awesome changes to the bike courses to bring back the mountain bike version!
Course Description: Desert Classic Duathlon consists of (2) off-road runs of 3.17 miles and a 24 mile road bike course or an 18 mile mountain bike course!
Race Options:
Individual Duathlon
Relay Duathlon
5k Run
10k Run
Champion's Cup Points: Individual Duathlon and Relay Duathlon qualify for Champion's Cup points
Date: Saturday, February 18th, 2017, 8:00am
Location: McDowell Mountain Park, 16300 McDowell Mountain Park Dr, Scottsdale, AZ 85268
Registration: https://desertclassicduathlon.eventbrite.com
3.1 Mile Off-road Run Course
24 Mile Road Bike Course
Transition Area