2017 Results: 21st Annual TriSports Desert Classic Duathlon & 5k 2/18/2017 Results
2017 Free Photos courtesy of Jamie Hines Photography: 2017 Photos
2018 Event Registration is Now Open


Are you ready for a fun, late-winter season kickoff & tuneup race in scenic McDowell Mountain Park? Come join us for the 22nd Annual Desert Classic Duathlon – Now part of Powerman North America!
Please visit the Powerman Arizona website for updated information on this event!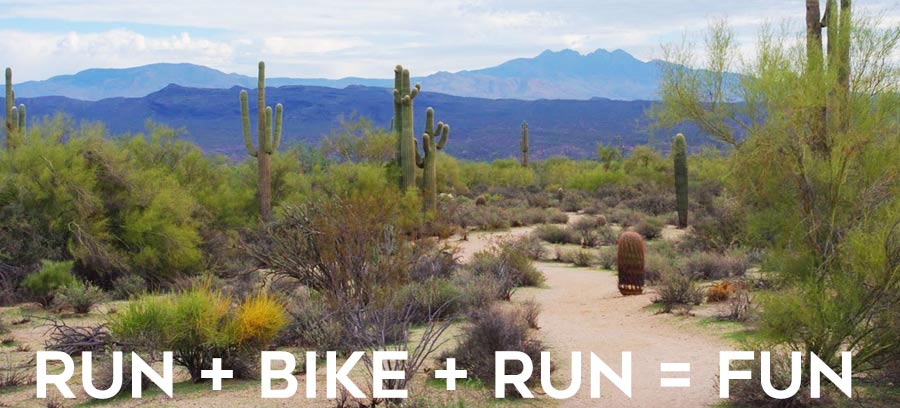 Over the past 22 years DCD has attracted athletes from all over North America from beginners to Ironman & Xterra World Champs, Olympic Triathlon & Cycling Gold Medalists – and YOU! We're proudly continuing that prestigious position as the official southwest USA multisport season kickoff, and are committed to delivering a challenging and exciting duathlon to kick the southwest into gear for years to come!
Don't let our prestigious history make you think this is a "elite-only" event;  Desert Classic Duathlon & 5k has always been and will continue to be a season kick-off for ALL athletes from first-timers to multisport pros!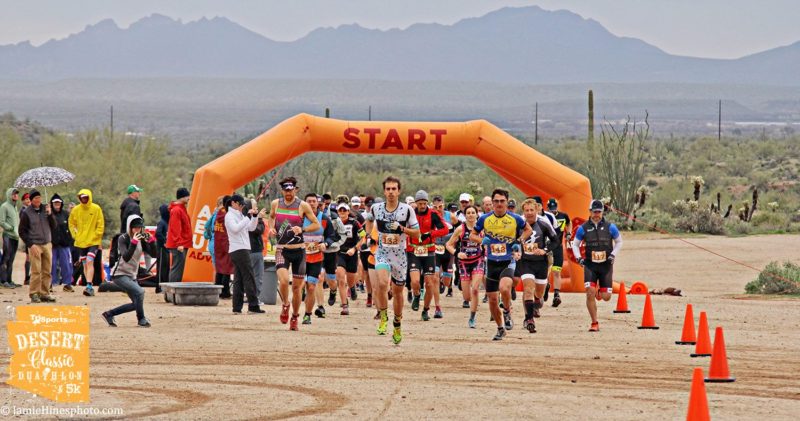 Course Description:
Please visit the Powerman Arizona website for updated information on this event!
Desert Classic Duathlon consists of (2) off-road runs of 3.17 miles and a 23 mile road bike course or an 19.5 mile mountain bike course! No bike? No problem! We have 5k & 10k trail run option too!
Race Details:
Options:
Date:
Saturday, February 17th, 2010, 8:00am
Location:
McDowell Mountain Park, 16300 McDowell Mountain Park Dr, Scottsdale, AZ 85268
Registration & Updated Information:
Parking
McDowell Mountain Park requires either a yearly or day pass for usage, day passes are $6, payable at the front gate. Parking is located conveniently right by transition on southeast side of the Competitive Loop parking lot.
Courses
5k Off-road Run Course
McDowell Mountain Park "Competitive Track's Sport Loop"
Entire run from the start to finish is on the Sport Loop track – just enough rolling hills with a few climbs to keep you honest! Expect some single track and rocks, and plenty of dirt, of course. Please to not cut trail sections, athletes must stay on the Sport Loop for the entire run.

23 Mile Road Bike Course
(2) Loops of out & back course along McDowell Mountain Park Road, 460′ elevation gain each loop for nearly 1000′ elevation gain over the whole course! McDowell Mountain Park Rd is NOT A CLOSED ROAD COURSE. This is a narrow, bumpy road with a lot of curves, so be extremely careful when passing, especially with vehicles on the road. We are alerting all vehicles as the enter the park beginning on Wednesday 2/15 through race morning to avoid the roads from 8am to 12:30pm on race day if possible, but your safety is reliant on YOU being aware of road conditions, so PLEASE keep your speed reasonable and your head up scanning the road conditions constantly. Turning from loop 1 to loop 2 is at the bottom of a 2 mile downhill stretch, it goes without saying that you have to slow to a safe speed before making a 180º turn on rough pavement. Be smart, be safe – this is a fun, tune-up race, and not a hammerfest.

18.5 Mile Mountain Bike Course
Due to its width in many sections and ability for riders to pass, we chose to use the Pemberton Trail for the MTB loop. It is a moderate trail with a couple challenges, and very well suited for athletes of all levels. Athletes will exit transition and ride along with the road cyclists for 1.8 miles (uphill) on McDowell Mountain Park Rd and turn right onto Pemberton Trail, staying ONLY on Pemberton Trail for the entire MTB course, traveling in a counter-clockwise direction for 14.5 miles before returning to the opposite side of McDowell Mountain Park Rd where you initially turned, and then travel (downhill) to transition. Please Note: A little over 1 mile into Pemberton Trail, you will cross over McDowell Mountain Rd heading west – Mountain bikers MUST STOP at the intersection and will be directed to cross when road is free of cars and cyclists. Failure to stop and heed race staff's direction may result in disqualification and is extremely dangerous to you, other road cyclists, and traffic.

Transition Area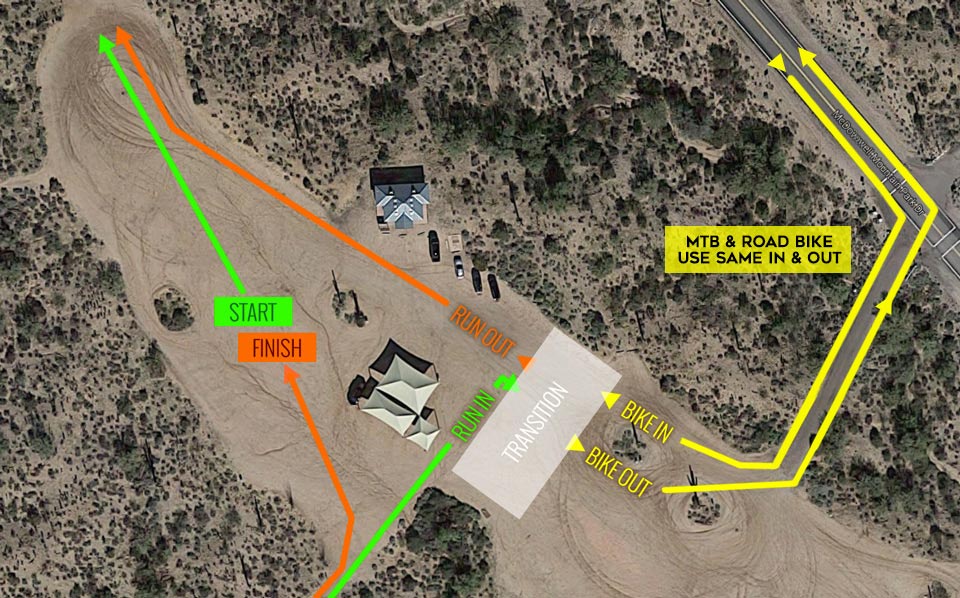 TriSports.com Discount for Athletes

TriSports.com Desert Classic Duathlon & 5k athletes get a 15% off discount at TriSports.com using promo code "RACE17" at http://trisports.com
Our Race Sponsors
| | |
| --- | --- |
| | Shop SLS3 for the latest in compression gear & multisport race kits at http://www.slstri.com |
| | Sole Sports Scottsdale is not only the location for our packet pick-up on Friday, 2/17, they are also a sponsor of some great race prizes for overall winners. Sole Sports Scottsdale, 7001 N Scottsdale Rd, Suite 170, Scottsdale, AZ 85253 |
| | FLUID is our choice for hydration & recovery drinks, try the amazing products at DCDU & check 'em out on livefluid.com |
| | XRacewear is the creator of the patented bib protector race shorts – just slide your bib into the built-in pocket and you'll never need safety pins again! xracewear.com |