"Thank you for keeping The Night Run 5k alive", he said after crossing the finish line. "Last year, my family ran it and I watched on the sidelines, it became my goal to run this year. I lost 70 pounds over the last 12 months preparing for this moment, you don't know how much this means to me!"
Location: Westin Kierland Golf Club, 15636 N Clubgate Dr, Scottsdale, AZ 85254
Date: Friday, November 13, Check-in begins at 5:00pm, staggered start begins at 5:30pm
100% of your entry fees went directly to AZ's cancer charity Don't Be A Chump, Check For A Lump! – and we raised $4000!!
YES – A LIVE EVENT IN 2020!
Run or walk around the Kierland Westin Golf Resort during a safe, socially-distanced event featuring a staggered, timed start where each runner (or family/consenting friends) gets their own start line – you'll be called up and announced at 30-second intervals! 6-feet spaced cones will lead you up to the start line, and at the finish line sealed medals will be provided by a masked, tested race official. We'll do everything we can to keep you safe while asking for everyone's support to do the same.
All proceeds from the event support AZ's own cancer charity: Don't Be A Chump, Check For A Lump!
FREE ENTRY if you choose Kierland Westin's "Stay The Night" package!
Guests of the Kierland POP package will enjoy 25% off best available rates, a $25 Resort Credit per night, plus two complimentary registrations to the Kierland POP 5K Night Run kicking off the weekend-long festivities November 13-15,2020.
Visit Marriott.com/PHXWS or call 480.624.1000 to book or learn more. Mention or enter special booking code LRR.
Safety Protocols:
Volunteers, spectators, & staff will all wear masks at all times during the event
Runners will wear masks before and after running, runners may wear a buff or lightweight fabric mouth and nose covering during their run if they choose to
All participants, spectators, volunteers, and staff will observe social distancing guidelines maintain at least 6 feet of distance from others
Beginning at 5:20 pm, individual runners or small groups of family members & consenting friends will walk up to available cones placed 10′ apart to the south of the start line and move forward as runners leave the start line, remaining 6′ apart from groups/individuals in front or behind them.
There will be NO WATER ON COURSE or at the Start/Finish line. Runners must bring their own water bottles to hydrate before, during, and after the event.
There will be no food or snacks available, please carry your own nutrition for pre and post-race fueling.
The Start & Finish chutes will be separated by barricades, and there will be no congregating at the finish line
>> Register Here For the 2020 Kierland Night Run 5k
2020 Course Map
2019 Kierland Night Run
2019 Race Results: https://www.athlinks.com/event/325985/results/Event/890659/Results
CONGRATULATIONS RUNNERS! We were able to raise over $5000 for our charity: Don't Be A Chump, Check For A Lump!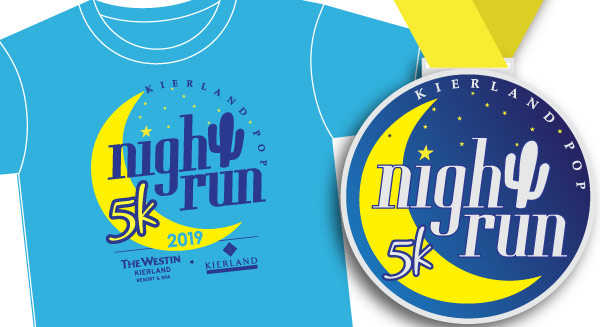 2019 Details & Timeline
2:30 pm – 5:30 pm: Pick up your T-shirt, bib, LED keychain flashlight, and neon bracelets right by the start/finish line on Main Street in Kierland Commons (just look for the inflatable start arch) during Kierland POP.
Wait – did we say "LED FLASHLIGHT"?
YES. The Kierland Westin Golf Club is NOT LIT UP at night, giving you the amazing experience of running under the stars! While we will have some lights in sections of the course and with volunteers, it is important to watch your step and use either the small LED flashlights we provided or your own flashlight / headlamp.
2019 Course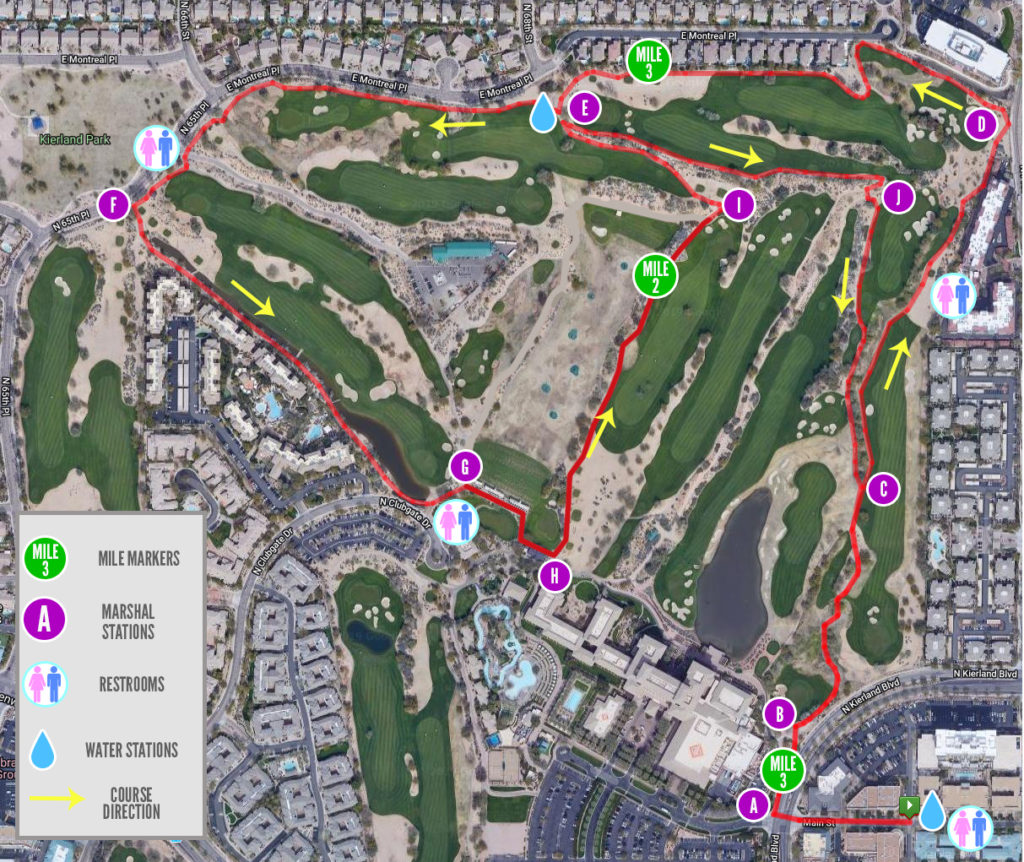 5:45 pm: Final announcements, warm-up, the National Anthem
6:00 pm: START!
7:00 pm: Course sweep & festivities switch back to all the awesomeness of Kierland POP!

PLEASE REMEMBER – The Night Run 5k is designed as an awesome run around Kierland Westin Golf Club under the stars and is not a "super fast set-your-personal-best" type of event.