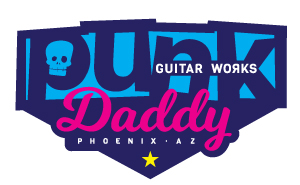 One-Of-You-Kind Guitars
During our downtime during the global pandemic, I started playing around with some of the guitars I had kicking around and developed a passion for creating very custom "one-of-you-kind" guitars – not "a kind" but "you kind" because each build is specific to the client and has a little part of you in it.
Whether we're mounting a vintage '67 license plate from your home state or drillig holes to place a locket reminiscent of your nickname – we take unused and unloved guitars and remake them to your own personal keepsake that also play and sound great too.
Who We Are
We're not master luthiers or guitar virtuosos – just a family of artists with a passion for making cool stuff for cool people. We build obstacle courses, host charity events, and just happen to love building guitars too. Follow us for live videos and weekly auctions at @punkdaddyguitars on Facebook or Instagram
Get Your Own
If you'd like an original Punk Daddy Guitar for yourself, a gift, or to support a charity, please pop us an email: brett@punkdaddyguitars.com
Charity Auctions
Twice a month we pick a charity partner and create a guitar for a live auction, with 100% of the proceeds going to that charity after covering the cost of materials (we keep each guitar under $100 in materials).
If you're interested in us supporting your charity, just pop us an email: brett@punkdaddyguitars.com
Donate Your Unused, Unloved Guitar
If you have a guitar in your closet or hiding under your bed that's just collecting dust, let us make some new memories with it! Donate your guitar to us – even send in the pieces – and we'll use it to build into a timeless heirloom for someone to cherish.